Home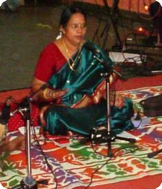 It is my sincere and strong opinion that there are a number of ways to learn and one of the best ways is by teaching, be it any art or for that matter anything in the world. This is not a conviction brought upon me by anybody, but it has gradually evolved from my own experience. After passing Certificate and Diploma examinations in Carnatic music conducted by the Department of Culture, Govt. of Andhra Pradesh in the late eighties and securing my M. A. Degree in Carnatic music from Telugu University, Hyderabad in early nineties, I could keep myself in constant touch with my music only by teaching to a number of students. Teaching required constant efforts to quench my insatiable quest for more music, which led to advancing my knowledge in this fine art. This was true not only in music but also in my shloka classes, where I teach Soundarya Lahari, Shivananda Lahari, Abhirami Andhadhi etc., and holy books like Sriman Narayaneeyam and Srimad Bhagavatham.

As the manifestation of my quest, first I brought out volumes of music lesions, I was teaching to my students starting from the Sarali Swaras to Krithis. This effort was well received by my students and their parents. Some of my students who have gone and settled abroad, have often been contacting me to get their doubts in music cleared and this inspired me to think of using the modern facilities like internet to have a wider reach. I have put the music lessons in the same style and manner as I would teach in the direct classes to my students. I have included a token charge for the music lessons, more to have commitment and seriousness on the part of the teacher and the taught than with commercial motives.

For this effort, I owe greatly to my music teachers late Shri C.H. Bhaskar, Shri Nookala Chinna Satyanarayana and many others who introduced me to the traditional music and my mother Late Smt. P. Kamalam and my father, Brahmasri C.R. Venkitaraman, who made me taste the nectar of Sriman Narayaneeyam and Srimad Bhagavatham. My heart is overwhelmed with emotion when I think about all the encouragement extended by my husband, my sons and daughters in law. The web page has been designed by my son, Ramesh.

Brinda Padmanabhan